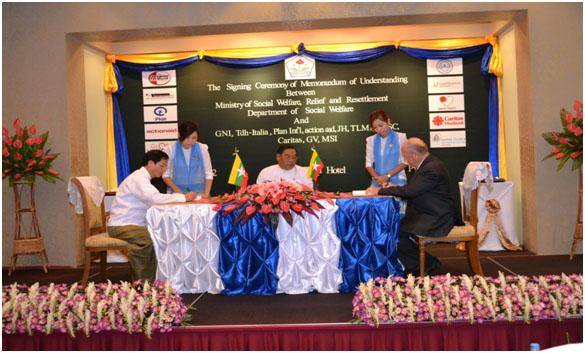 Nay Pyi Taw, 2012 July 9 -
      The signing ceremony of MoU between Department of Social Welfare under Ministry of Social Welfare, Relief and Resettlement and ten INGOs in progress.
      A ceremony to sign, MoU between Social Welfare Department of Ministry of Social Welfare, Relief and Resettlement and ten INGOs, took place at Function Hall of Thingaha Hotel in Nay Pyi Taw Hotel Zone, here, this morning.
      Deputy Minister for Social Welfare, Relief and Resettlement U Phone Swe delivered a speech on the occasion. After that, Director- General U SoeKyi of Social Welfare Department and responsible persons from ten INGOs signed and exchanged MoU in the presence of the Deputy Minister.Then, officials from INGOs spoke words of thanks.
      Social Welfare Department and ten INGOs- Good Neghbours Internal, Terre des homes (TdH- Italia), Action Aid, Japan Heart, Caritas Thailand, Globlal Vision, Plan International , the Leprosy Mission International, Latte-Day Saint Charities and Marie Stopes International and others- will make cooperation on child care, promoting sociao- economic status of persons with disabilities and taking care of the elderly.
      The Social Welare Department signed MoU with INGOs such as Save the Children, World Vision and Help- Age International. So far, the Department has signed MoUs with 13 INGOs.
      INGOs' aid programme will support those who are in need of social help as well as promoting more chances such as income, job, education and helth.
      It was also attended by Deputy Minister for Health Dr Win Myint and departmental officials, officials from INGOs and guests.